"I had looked at several church giving programs, each having a plethora of things that could be done. I needed something simple and easy to use and Donarius fit the bill. You buy only what you need and at a very affordable price. I highly recommend it." - David R., First U.M.C., Auburn, NE

Donarius® Church/Donor Management Software
Donarius® helps you keep track of families, group membership, sponsors and other relationships

Donarius® will make it easy for you to keep track
of various relationships such as:

families
sponsorships (of missionaries, children in need, etc.)
small groups
other group membership
who people are praying for
All the members of a family are entered separately then linked to one of the parents. The people in a group or committee are linked to the leader. People being sponsored are linked to the sponsor.

This makes it easy to create a color photo directory showing each person in the family, and a family or individual picture.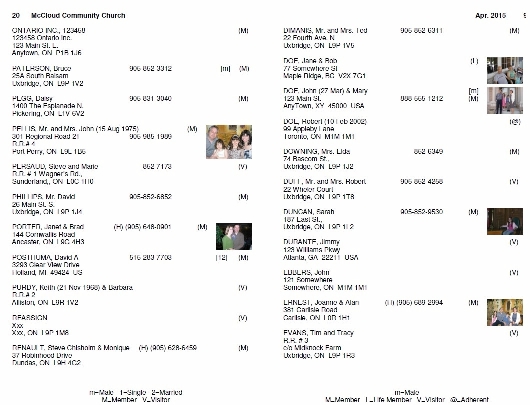 You can do one copy of the photo directory using the demo version of Donarius®.

Show which donors have a birthday in the next week so you can send them a card. Also can send an anniversary card for couples who will be having their anniversary soon.

For synagogues: send Yahrtzeit letters a few weeks before the anniversary of a loved one's passing away.
Benefits of Donarius >>>
<<< Back to Donarius Main Page