"We are so happy to have found Donarius to replace our old and buggy Geminon software. We are a small church and have to be mindful of our spendings so were pleased by the software price. Donarius has everything that we need and more. The customer support for our printing issue on our Mac was prompt and excellent, very surprising considering the low price of the software." - Nathalie D., Curries United Church, Woodstock, ON

Donarius® Photo Directory Software
Donarius® makes it easy to print a color photo directory for your church

All the members of a family are entered separately then linked to one of the parents. For example, wife is linked to husband, and each child is linked to the father or mother. (This requires the purchase of the "Relationships/Families" module.) Each person can have a family and/or an individual picture. (This requires the purchase of the "Photo Directory" module.)

This makes it easy to create a color church photo directory showing each person in the family, and a picture.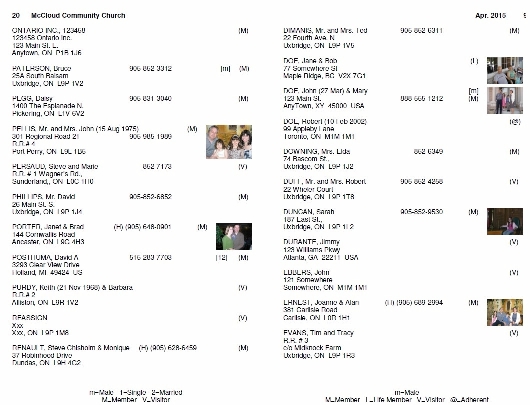 The directory is printed on both sides of standard 8.5" x 11" paper. The sheets are then stapled together to make a booklet that is 5.5" x 8.5". Each page is numbered with your choice of headings. You can also have several sections with different types of donors in each section.

There is also a full page format (in portrait mode). First there is a section with the names/addresses in 2 or 3 columns. Then there is a section with each photo.

You have various options of what to show on the photo directory:
which phone numbers and/or email addresses to show
show each parents' or child's birthday
show each couple's anniversary
You can do one copy of the photo directory using the demo version of Donarius®.


Benefits of Donarius >>>
<<< Back to Donarius Main Page